Attorney Peter A. Shapiro
A Top Orlando Injury and Criminal Attorney
Awards received include Judge Irving Cypen Scholastic Achievement Award, book awards in torts, negotiations, professional responsibility, and other areas.
Member of the Florida Bar, The Florida Justice Association- Licensed in Florida to Practice Law.
Board member of The Margarita Society (a charity that obtains gifts for underprivileged kids during Christmas time), The Friends of 440 Scholarship Fund (a charity that raises money for kids to go to college whose parents have been injured and cannot afford the costs of college).
Lecturer on personal injury topics.
Avid tennis player, motorcycle rider and wake boarder.
e-mail: peter@shapiroatlaw.com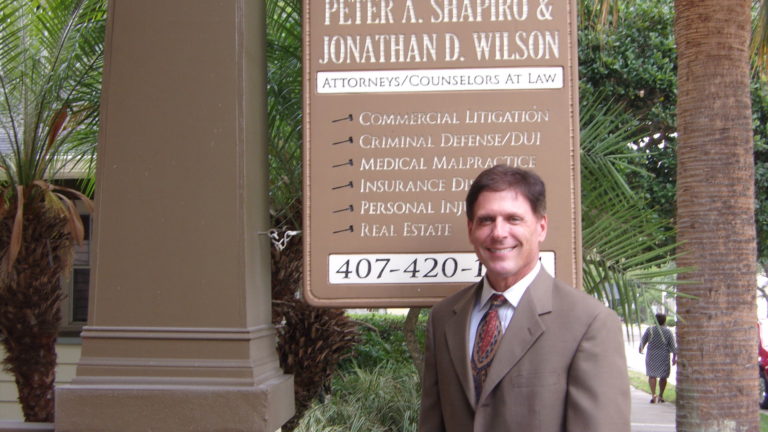 Graduated Virginia Tech with a degree in Computer Engineering – graduated with highest honors, valedictorian.
Graduated from University of Florida College of Law, graduated with highest honors, valedictorian.
During law school – worked with the law firm Fine, Farkash & Parlapiano, P.A., Gainesville, FL doing work involving individuals injured in accidents – personal injury, medical malpractice.
Worked with Morgan, Colling & Gilbert, Orlando, FL handling cases involving persons involved in accidents including automobile accidents, nursing home neglect, malpractice, and insurance matters.
1996 – present – Owner of his own law firm serving the community and assisting those injured in all kinds of accidents and insurance disputes.